Seeing history repeat itself during an unprecedented global pandemic was too much. The senseless deaths of George Floyd, D'Andre Campbell, and Regis Korchinksi-Paquet at the hands of the police, as well as the killing Ahmaud Arbery by white supremacists, has sparked protests and revolts across North America and around the world. Even as we are expected to remain in quarantine, mourning and outrage has spilled into the streets as protesters demand the defunding of the police and an end to anti-Black racism. We've compiled a list of readings examining the reactionary role of the police in a capitalist society.
Activists and scholars from across the world expose disturbing stories of political policing to question what lies beneath state surveillance. Activists and the Surveillance State shows that ultimately, movements can learn from their own repression, developing a critical and complex understanding of the nature of states, capital and democracy today.
Lesley J. Wood explains how, in an increasingly integrated and tumultuous world, neoliberal shifts in political and economic systems are militarizing the policing of protest. Crisis and Control uses novel theoretical and methodological approaches and a unique range of empirical data to make an important and radical contribution to a growing field.
Whose Streets?
The Toronto G20 and the Challenges of Summit Protest
In June 2010, activists opposing the G20 meeting in Toronto were greeted with arbitrary state violence on a scale never before seen in Canada. Whose Streets? is a combination of testimonials from the front lines and analyses of the broader context of the protests. The collection balances critical perspective with on-the-street intensity and offers vital insight on how local organizing and global activism can come together.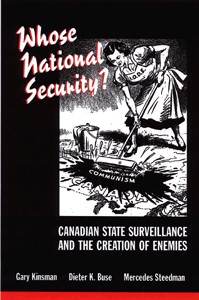 Whose National Security?
Canadian State Surveillance and the Creation of Enemies
Would you believe that RCMP operatives used to spy on Tupperware parties? In the 1950s and '60s, they did. They also monitored high school students, gays and lesbians, trade unionists, left-wing political groups, feminists, consumer's associations, Black activists, First Nations people, and Quebec sovereigntists. Whose National Security? probes the security state's ideologies and hidden agendas, and sheds light on threats to democracy that persist to the present day.
Fear of a Black Nation
Race, Sex, and Security in Sixties Montreal
In this award-winning history, David Austin profiles a brief moment in the 1960s when Montreal became an unlikely hotbed of Black radical politics and the Caribbean left. In October 1968, the Congress of Black Writers at McGill University brought together well-known Black thinkers and activists such as C.L.R. James, Stokely Carmichael, Miriam Makeba, Rocky Jones, and Walter Rodney. Months later, a Black-led protest at Sir George Williams University (now Concordia) exploded on the front pages of newspapers across Canada.