Bringing sexual harassment into the light of day
I spoke with Bonnie Robichaud, the author of It Should be Easy to Fix, in the weeks approaching the book's release on March 8. Bonnie's book presents a searingly frank description of how unimaginably difficult it was for her to bring a complaint of aggressive sexual harassment against her supervisor at the Department of National Defence in 1977. It is impossible to understate the strength and determination required to achieve what Bonnie did over years of legal challenges, ending in a landmark decision from the Supreme Court of Canada.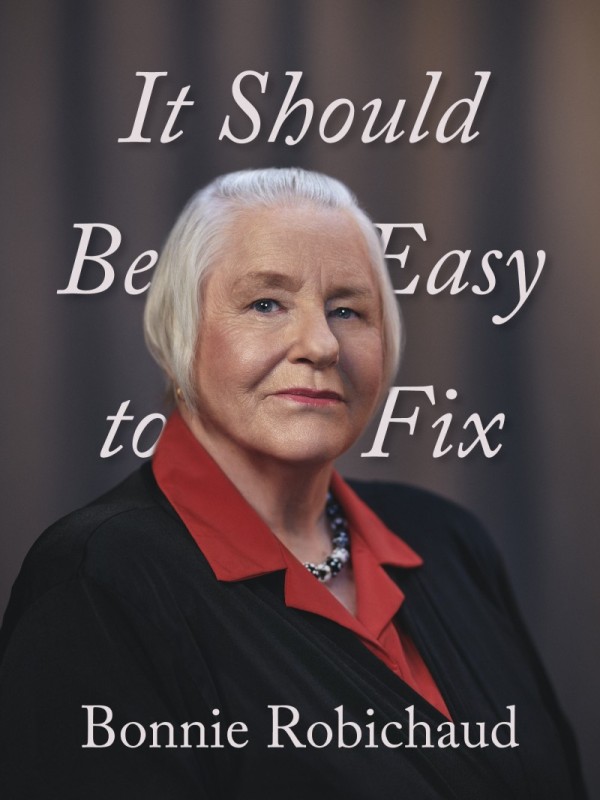 Julie Macfarlane: I want to begin at your beginning—trying to bring sexual harassment into the light of day in the 1970s and 80s. So much of what you write resonates for me and other women, who in those days just put up with sexual harassment as "normal." Why did we all put up with this for as long as we did, and what has changed?
Bonnie Robichaud: We did not complain about sexual harassment until we had to—and only then when it felt safe to do so. For me, I believed it was safe after my probation was over. At the same time, I was not sure it would not be safe to complain in the military. By the time I discovered that, it was too late to back down and I fought back to keep my job and do what was right.
What has changed is that we have a greater understanding of sex from a far younger age, with education and information on TV, media, and the internet.
JM: One of the things I have been disappointed to learn in my own work on sexual violence—and especially on banning the misuse of non-disclosure agreements to silence victims—is how far behind the union movement is when it comes to addressing sexual harassment. The support you eventually built in the union movement took many years. Why aren't unions taking a leading role in this struggle, and what needs to change?
BR: Unions are a reflection of our society. Not all unions have the same policies; some take different approaches than others. Unions have only in recent years started to have women in their leadership. Unions were, and sometimes still are, male dominated, and so they put their own interests first, and that's protection for male members found to have sexually harassed women. Many of these union members still do not really want women working at their workplace.
I believe it is very important to ban non-disclosure agreements. At my time of signing, I was totally worn out, as likely others are. The NDA takes away the opportunity of healing and hides the wrongdoing. Just because more money is offered with the agreement does not make it right for the employer to force it on the complainant, with few options if not signed. They should be declared illegal and unenforceable.
Going Public
A Survivor's Journey from Grief to Action
JM: I was struck by how ably you used media attention throughout—including publishing your own newsletters before the days of social media—to increase public awareness. Media exposure and social media interest is still critical to calling out wrongdoing. But many survivors have had bad experiences with the media. What have you learned about how to use media and social media for good?
BR: I didn't contact the media much at first. The media paid attention to my court proceedings. By this time, 1982—three years into my fight—things were only getting worse at work. By year four, when I bought a photocopier and started the newsletter, I put all my contacts on my mailing list. I started to send out press releases and provided other material I thought would be helpful. I never hesitated to talk to them or do interviews. My efforts were not always successful because there were other more interesting things to report. I think I got media attention because the idea that fighting a sexual harassment complaint through the Human Rights Act was new, and something worth following.
I would advise other activists to contact legitimate media, newspapers, et cetera, and be available to talk to them; send press releases; and also, remember that even bad publicity is better than no publicity.
JM: I found reading some of your descriptions of the legal processes you went through very upsetting, having had many of the same experiences myself—for example, being badgered by counsel with the same question and having to present what happened to you to adjudicators who seemed to have no understanding of sexual assault. Would you advise someone to use a legal process, whether at a human rights tribunal or in the civil or criminal courts? What should others expect? And what did you do to stay strong through these processes?
BR: I am not in a position to give advice on what legal course to take. Find material on how to fight a complaint in the library. There are lawyers now that specialise in fighting sexual harassment complaints. Find community groups that can help. Be sure you have the resources to fight. My booklet, A Guide to Fighting Sexual Harassment and Assault in the Workplace, can be found online. It gives a lot of detailed information on the process.
Stay strong, believe in yourself, have a good support system, and be prepared to write lots of letters to those who can help and those who should help, such as politicians, unions, and women's groups. As for what to expect, it will be difficult, take a long time, and at times be heartbreaking. But in my experience it is liberating to fight back and not stay silent.